The weather's getting warmer, you're going to be ordering your robes and cords soon, you have your college plans set — graduation day just needs to get here already. After all, you have an entire summer with your friends to enjoy, before everyone heads off in different directions.
But before you turn your notebook pages into fortune tellers, or use third period as a time to nap, there's still some work to be done. If you take this time now to get ahead for college credits later, your future self will absolutely thank present-day you. With SpeedyPrep, you can actually get college credits while you're still in high school, as long as your college has the right CLEP policies in place (be sure to double check!). Push through that senior slide just a little longer — see how CLEP test prep can help!
Maximize Your AP Credits
AP exams are stressful, and being stressed out is not exactly how you want to spend your final semester of high school. CLEP test prep can help alleviate some of the pressure, by providing alternatives to you getting those AP college credits.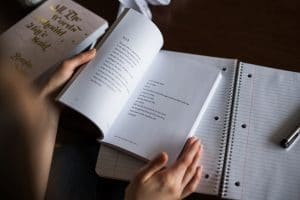 Didn't take the AP exam?
No problem. As long as your prospective college has the appropriate CLEP policies, you can work with SpeedyPrep to get the corresponding credits.
Didn't get the right score?
Oftentimes, colleges have a specific score that they require you to get, in order to get the college credits. It can be super disheartening to get your results from the AP exam, and learn that it's not enough to count. However, CLEP test prep can help! If you're dissatisfied with your AP exam score and are still vying for those creds, CLEP could be a great option for you.
Extra Credit
Psssst, guess what? AP exams aside, you can still beat the senior slide by going just a little bit above and beyond to get a jumpstart in your college credits. All you have to do is talk to a school counselor or teacher about CLEP, and see if there are any classes available at your school where you could take an exam and get some credits. This could save you so much money down the road, because you won't have to pay for those expensive college courses. By asking about CLEP at your school, you could eliminate taking out more loans and get ahead in your coursework at the same time. It might work, it might not, but hey — you're trying. Senioritis has nothing on you.
The senior slide is hard to beat, but if you make the right moves for getting college credits now, you'll be in a great spot — even before you get to the dorms. This could be the difference between cramming 18 credits into a semester and losing sleep over your insanely busy schedule, or getting to sleep in until noon on a Wednesday, feeling relaxed because you already got those history prerequisites covered. Make time for future naps with CLEP test prep from SpeedyPrep, and enjoy the last parts of your senior year!