This course can be used as a study resource, for professional development, or to earn college credit by passing a CLEP™ exam (multiple-choice examination).  Each college sets its own credit-granting policies for the exam, so check with your college admissions office, test center, or academic adviser before taking the test.  
The History of the United States II: 1865 to the Present course covers material that is usually taught in the second semester of what is often a two-semester course in United States history. The course covers the period of United States history from the end of the Civil War to the present, with the majority of the focus on the twentieth century.
Following the Civil War, the United States experienced tremendous growth as more states joined the union. Rapid rise in industrialization and materials output soon exceeded that of all other world nations. The U.S. rise to world power status occurred during the decades that followed the 1890s.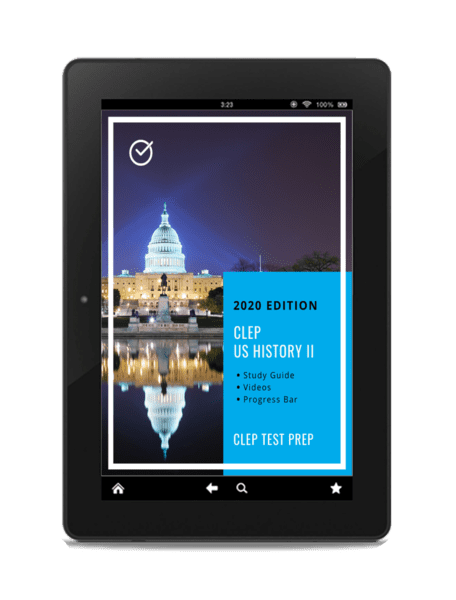 Identification and description of historical phenomena
Analysis and interpretation of historical phenomena
Comparison and contrast of historical phenomena
US History II
"We hold these truths to be self-evident, that all men are created equal, that they are endowed by the Creator with certain unalienable Rights, that among these are Life, liberty and the pursuit of Happiness." (the Declaration of Independence, 1776) . . . With these words, the Continental Congress set in motion what has become the great American democratic experiment . . . the structured, purposeful establishment of a new nation. 200 years of exploration by many countries and British colonization has been followed by over 240 years of nationhood.
The US History II exam contains approximately 120 questions to be answered in 90 minutes. Some of these are pretest questions that will not be scored.
CLEP™ Score Information
Credit-Granting Score for US History II
ACE Recommended Score*: 50
Semester Hours: 3
Each institution reserves the right to set its own credit-granting policy, which may differ from that of ACE. Contact your college as soon as possible to find out the score it requires to grant credit, the number of credit hours granted, and the course(s) that can be bypassed with a satisfactory score.
*The American Council on Education's College Credit Recommendation Service (ACE CREDIT) has evaluated CLEP processes and procedures for developing, administering, and scoring the exams. The score listed above is equivalent to a grade of C in the corresponding course. The American Council on Education, the major coordinating body for all the nation's higher education institutions, seeks to provide leadership and a unifying voice on key higher education issues and to influence public policy through advocacy, research, and program initiatives. Visit the ACE CREDIT website for more information.*
*https://clep.collegeboard.org/
Course Features
Lectures

1

Quizzes

0

Duration

Lifetime access

Skill level

All levels

Students

11386

Assessments

Yes