Principles of Macroeconomics
This course can be used as a study resource, for professional development, or to earn college credit by passing a CLEP™ exam (multiple-choice examination).  Each college sets its own credit-granting policies for the exam, so check with your college admissions office, test center, or academic adviser before taking the test.  
The Principles of Macroeconomics exam covers material that is usually taught in a one-semester undergraduate course in this subject. This aspect of economics deals with principles of economics that apply to an economy as a whole, particularly the general price level, output and income, and interrelations among sectors of the economy.
The exam places particular emphasis on the determinants of aggregate demand and aggregate supply, and on monetary and fiscal policy tools that can be used to achieve particular policy objectives. Students will need to demonstrate their knowledge of the institutional structure of the Federal Reserve Bank and the monetary policy tools it uses to stabilize economic fluctuations and promote long-term economic growth.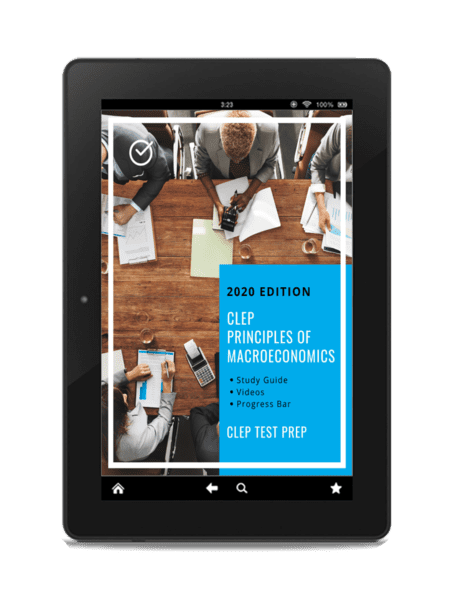 Understanding of important economic terms and concepts
Interpretation and manipulation of economic graphs
Interpretation and evaluation of economic data
Application of simple economic models
Principles of Macroeconomics
Macroeconomics (from the Greek prefix makro- meaning "large" + economics) means using interest rates, taxes and government spending to regulate an economy's growth and stability.[1] It is a branch of economics dealing with the performance, structure, behavior, and decision-making of an economy as a whole. This includes regional, national, and global economies. Macroeconomists study topics such as GDP, unemployment rates, national income, price indices, output, consumption, unemployment, inflation, saving, investment, energy, international trade, and international finance.*
The Principles of Macroeconomics exam contains approximately 80 questions to be answered in 90 minutes. Some of these are pretest questions that will not be scored.
CLEP™ Score Information
Credit-Granting Score for Principles of Macroeconomics
ACE Recommended Score*: 50
Semester Hours: 3
Each institution reserves the right to set its own credit-granting policy, which may differ from that of ACE. Contact your college as soon as possible to find out the score it requires to grant credit, the number of credit hours granted, and the course(s) that can be bypassed with a satisfactory score.
*The American Council on Education's College Credit Recommendation Service (ACE CREDIT) has evaluated CLEP processes and procedures for developing, administering, and scoring the exams. The score listed above is equivalent to a grade of C in the corresponding course. The American Council on Education, the major coordinating body for all the nation's higher education institutions, seeks to provide leadership and a unifying voice on key higher education issues and to influence public policy through advocacy, research, and program initiatives. Visit the ACE CREDIT website for more information.*
*https://clep.collegeboard.org/
Course Features
Lectures

1

Quizzes

0

Duration

Lifetime access

Skill level

All levels

Students

5649

Assessments

Yes