This course can be used as a study resource or to earn college credit by passing a CLEP™ exam (multiple-choice examination).  Each college sets its own credit-granting policies for the exam, so check with your college admissions office, test center, or academic adviser before taking the test.  
This course covers a wide range of topics taught in a one-semester course. Generally, the Natural Science CLEP™ exam will fulfill a science requirement for non-science majors. Covering the knowledge of many natural phenomena, the exam requires an understanding of the basic principles and concepts of science. Of interest, is the interdisciplinary aspect of the exam. Questions will occasionally address not just the 'facts' of science, but also the philosophy of science and its history and the relationship of science to addressing problems in our world.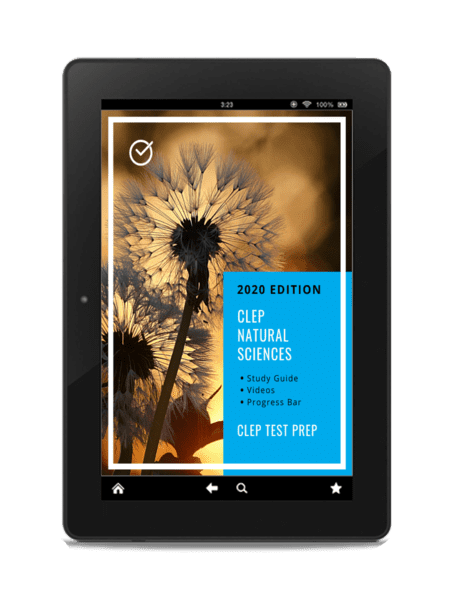 Knowledge of fundamental facts, concepts, and principles
Interpretation and comprehension of information presented in the form of graphs, diagrams, table, equations, or verbal passages
Qualitative and quantitative application of scientific principles, including applications based on material presented in the form of graphs, diagrams, tables, equations, or verbal passages; more emphasis is given to qualitative than quantitative applications
Natural Science
Natural science is a branch of science concerned with the description, prediction, and understanding of natural phenomena, based on empirical evidence from observation and experimentation. Mechanisms such as peer review and repeatability of findings are used to try to ensure the validity of scientific advances.
Natural science can be divided into two main branches: life science and physical science. Life science is alternatively known as biology, and physical science is subdivided into branches: physics, chemistry, astronomy and Earth science. These branches of natural science may be further divided into more specialized branches (also known as fields). As empirical sciences, natural sciences use tools from the formal sciences, such as mathematics and logic, converting information about nature into measurements which can be explained as clear statements of the "laws of nature".*
*https://en.wikipedia.org/wiki/Natural_science
The Natural Science CLEP™ exam contains approximately 120 questions to be answered in 90 minutes. Some of these are pretest questions that will not be scored.
CLEP™ Score Information
Credit-Granting Score for Natural Science
ACE Recommended Score*: 50
Semester Hours: 6
Each institution reserves the right to set its own credit-granting policy, which may differ from that of ACE. Contact your college as soon as possible to find out the score it requires to grant credit, the number of credit hours granted, and the course(s) that can be bypassed with a satisfactory score.
*The American Council on Education's College Credit Recommendation Service (ACE CREDIT) has evaluated CLEP processes and procedures for developing, administering, and scoring the exams. The score listed above is equivalent to a grade of C in the corresponding course. The American Council on Education, the major coordinating body for all the nation's higher education institutions, seeks to provide leadership and a unifying voice on key higher education issues and to influence public policy through advocacy, research, and program initiatives. Visit the ACE CREDIT website for more information.*
*https://clep.collegeboard.org/science-and-mathematics/biology
Course Features
Lectures

1

Quizzes

0

Duration

Lifetime access

Skill level

All levels

Students

7234

Assessments

Yes