This course can be used as a study resource, for professional development, or to earn college credit by passing a DSST™ exam (multiple-choice examination).  Each college sets its own credit-granting policies for the exam, so check with your college admissions office, test center, or academic adviser before taking the test.  
The Math for Liberal Arts covers topics such as real number systems; sets and logic; metric system; conversions and geometry; algebra, graphs and functions (as applied to real-life applications); linear systems and inequalities; exponents and logarithms including financial literacy and counting; probability theory and statistics.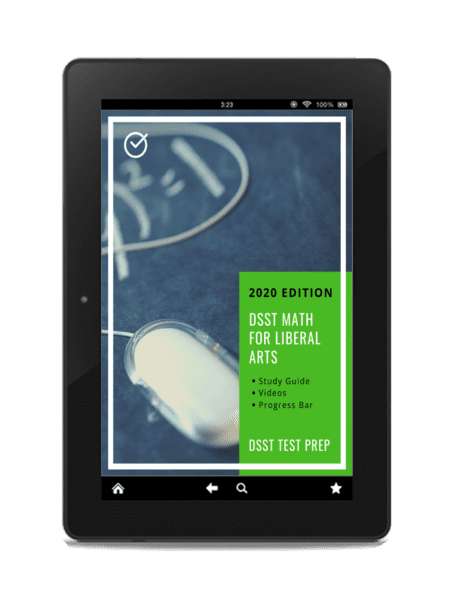 DSSTPrep is endorsed by and is an Official Test Prep Provider for Prometric/DSST Credit-by-Exam Program
Math for Liberal Arts
Liberal arts education (from Latin liberalis "free" and ars "art or principled practice")[1] is the traditional academic program in Western higher education.[2] Liberal arts generally covers three areas: sciences, arts, and humanities. Its central academic disciplines include philosophy, logic, linguistics, literature, history, political science, sociology, and psychology. Liberal arts education can refer to studies in a liberal arts degree program or to a university education more generally. Such a course of study contrasts with those that are principally vocational, professional, or technical.*
The exam contains 80 questions to be answered in 2 hours. The use of a non-programmable calculator is permitted in this exam.
DSST™ Score Information
CREDIT RECOMMENDATIONS
The American Council on Education's College Credit Recommendation Service (ACE CREDIT) has evaluated the DSST test development process and content of this exam. It has made the following recommendations:
Area or Course Equivalent: Math for Liberal Arts
Level: Lower-level baccalaureate
Amount of Credit: 3 Semester Hours
Minimum Score: 400
Source: www.acenet.edu
Course Features
Lectures

1

Quizzes

0

Duration

Lifetime access

Skill level

All levels

Students

321

Assessments

Yes