Lifespan Developmental Psychology
Lifespan Developmental Psychology can be used as a study resource, for professional development, or to earn college credit by passing a DSST exam (multiple-choice examination).  Each college sets its own credit-granting policies for the exam, so check with your college admissions office, test center, or academic adviser before taking the test.  
Lifespan Developmental Psychology is offered by DSSTPrep and comes with a money-back guarantee.
DSSTPrep is endorsed by & is an Official Test Prep Provider for Prometric/DSST Credit-by-Exam Program.  This course covers topics such as biological development, perception, learning and memory, cognition, and language.
What's the best way to study with DSSTPrep?
The answer to this is entirely up to you. You may choose to go over one section of material over and over until you have filled the progress bar up to 100% for just that section and then move onto the next section. However, this can be a bit boring, so we recommend that you get to feeling comfortable with one section, answering the questions several times, and then study the next section. If you open several sessions at a time, the DSSTPrep program will mix and scramble the order of the questions.
DSSTPrep's sessions of study are broken into manageable numbers of questions. If a section of material is large, we will have it presented in a couple of sessions, i.e., parts 1 & 2. This is done to keep you from becoming too fatigued when you sit down to study one section.
When you complete a section of questions, use the 'repeat missed questions' button and go back and answer those questions again. You are more likely to remember the answers the next time you study if you review those questions right away.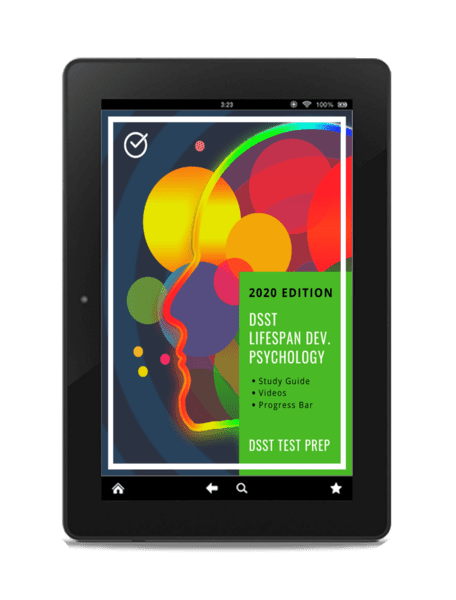 DSSTPrep is endorsed by and is an Official Test Prep Provider for <br>Prometric/DSST Credit-by-Exam Program
Lifespan Developmental Psychology
Developmental psychology is the scientific study of how and why human beings change over the course of their life. Originally concerned with infants and children, the field has expanded to include adolescence, adult development, aging, and the entire lifespan. Developmental psychologists aim to explain how thinking, feeling, and behaviors change throughout life. This field examines change across three major dimensions: physical development, cognitive development, and social emotional development. Within these three dimensions are a broad range of topics including motor skills, executive functions, moral understanding, language acquisition, social change, personality, emotional development, self-concept, and identity formation.*
Watching just the videos will not prepare you to pass your DSST® exam. The videos are made to give information that expands on the questions they pertain to. The videos give you context which will help the overall foundation of knowledge you have on your subject, making your recall of answers easier.
Some people use the videos as a quick way to review just before taking their exams.
The exam contains 100 questions to be answered in 2 hours. The use of a non-programmable calculator is permitted in this exam.
DSST™ Score Information
CREDIT RECOMMENDATIONS
The American Council on Education's College Credit Recommendation Service (ACE CREDIT) has evaluated the DSST test development process and content of this exam. It has made the following recommendations:
Area or Course Equivalent: Lifespan Developmental Psychology
Level: Lower-level baccalaureate
Amount of Credit: 3 Semester Hours
Minimum Score: 400
Source: www.acenet.edu
Course Features
Lectures

1

Quizzes

0

Duration

Lifetime access

Skill level

All levels

Students

414

Assessments

Yes