Biology 101: Introduction to Biology
This course can be used as a study resource or to earn college credit by passing a CLEP™ exam (multiple-choice examination).  Each college sets its own credit-granting policies for the exam, so check with your college admissions office, test center, or academic adviser before taking the test.  
This course covers the material that is taught in a one-year general biology college course, the Biology CLEP™ exam draws from the three major areas of biological studies: molecular & cellular biology, organismal biology, and population biology.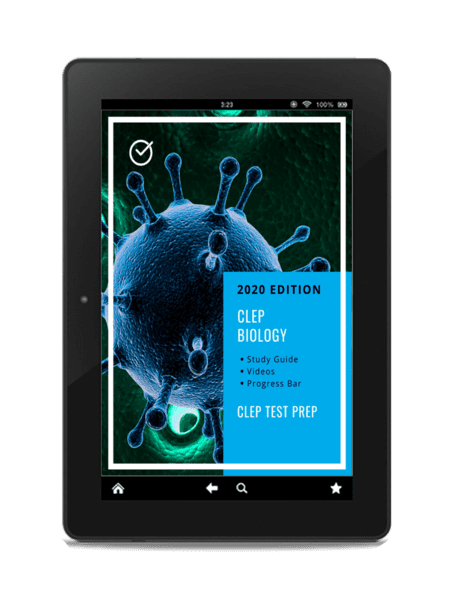 Knowledge of the facts, principles, and processes of biology
Knowledge of the basic scientific process:  how information is collected, how it is interpreted, how to develop hypotheses from known information, how study leads to conclusions, and how to make further predictions
Scientific study is a human undertaking with social consequences
Biology
Biology is the natural science that studies life and living organisms, including their physical structure, chemical processes, molecular interactions, physiological mechanisms, development, and evolution.  Despite the complexity of the science, certain unifying concepts consolidate it into a single, coherent field. Biology recognizes the cell as the basic unit of life, genes as the basic unit of heredity, and evolution as the engine that propels the creation and extinction of species. Living organisms are open systems that survive by transforming energy and decreasing their local entropy to maintain a stable and vital condition defined as homeostasis.*
The Biology CLEP™ exam contains approximately 115 multiple choice questions to be answered in 90 minutes. Some of these are pretest questions that will not be scored.
CLEP™ Score Information
Credit-Granting Score for Biology
ACE Recommended Score*: 50
Semester Hours: 6
Each institution reserves the right to set its own credit-granting policy, which may differ from that of ACE. Contact your college as soon as possible to find out the score it requires to grant credit, the number of credit hours granted, and the course(s) that can be bypassed with a satisfactory score.
*The American Council on Education's College Credit Recommendation Service (ACE CREDIT) has evaluated CLEP processes and procedures for developing, administering, and scoring the exams. The score listed above is equivalent to a grade of C in the corresponding course. The American Council on Education, the major coordinating body for all the nation's higher education institutions, seeks to provide leadership and a unifying voice on key higher education issues and to influence public policy through advocacy, research, and program initiatives. Visit the ACE CREDIT website for more information.*
*https://clep.collegeboard.org/science-and-mathematics/biology
Course Features
Lectures

3

Quizzes

0

Duration

Lifetime access

Skill level

All levels

Students

8650

Assessments

Yes