Analyzing and Interpreting Literature
This course can be used as a study resource, for professional development, or to earn college credit by passing a CLEP™ exam (multiple-choice examination).  Each college sets its own credit-granting policies for the exam, so check with your college admissions office, test center, or academic adviser before taking the test.  
The Analyzing and Interpreting Literature course covers material learned in a one-semester college course. The course will increase the student's ability to understand and analyze a broad range of historical writings in poetry, drama, fiction, and nonfiction taken from the Classical through modern eras. The course will provide texts over which the student will answer questions. Earlier experience with the texts is not required. Students will need to have a basic understanding of literary terminology. The texts will be primarily drawn from British and American literature. Deep knowledge of authors and historical literary movements is not required.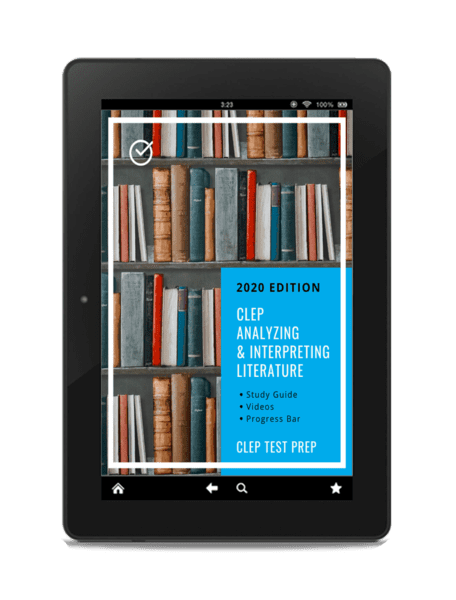 Ability to read prose, poetry, and drama with understanding
Ability to analyze the elements of a literary passage and to respond to nuances of meaning, tone, imagery, and style
Ability to interpret metaphors, to recognize rhetorical and stylistic devices, to perceive relationships between parts and wholes, and to grasp a speaker's or author's attitudes
Knowledge of the means by which literary effects are achieved
Familiarity with the basic terminology used to discuss literary texts
Analyzing and Interpreting Literature
Literature broadly refers to any collection of written or oral work, but it more commonly and narrowly refers to writings specifically considered to be an art form, especially prose fiction, drama, and poetry, in contrast to academic writing and newspapers.  In recent centuries, the definition has expanded to now include oral literature, much of which has been transcribed.*
*https://en.wikipedia.org/wiki/Literature
The exam contains approximately 80 multiple choice questions to be answered in 90 minutes. Some of these are pretest questions that will not be scored. The College Board provides the parameters for the exam which we have listed below.
* An optional essay section can be taken in addition to the multiple-choice section; however, SpeedyPrep cannot at this time prepare the student for the essay, but will prepare the student for the multiple-choice exam section.
CLEP™ Score Information
Credit-Granting Score for Analyzing and Interpreting Literature
ACE Recommended Score*: 50
Semester Hours: 3
Each institution reserves the right to set its own credit-granting policy, which may differ from that of ACE. Contact your college as soon as possible to find out the score it requires to grant credit, the number of credit hours granted, and the course(s) that can be bypassed with a satisfactory score.
*The American Council on Education's College Credit Recommendation Service (ACE CREDIT) has evaluated CLEP processes and procedures for developing, administering, and scoring the exams. The score listed above is equivalent to a grade of C in the corresponding course. The American Council on Education, the major coordinating body for all the nation's higher education institutions, seeks to provide leadership and a unifying voice on key higher education issues and to influence public policy through advocacy, research, and program initiatives. Visit the ACE CREDIT website for more information.*
*https://clep.collegeboard.org/
Course Features
Lectures

1

Quizzes

0

Duration

Lifetime access

Skill level

All levels

Students

7602

Assessments

Yes