This course can be used as a study resource, for professional development, or to earn college credit by passing a CLEP™ exam (multiple-choice examination).  Each college sets its own credit-granting policies for the exam, so check with your college admissions office, test center, or academic adviser before taking the test.  
The American Literature course covers material that is taught in a college semester survey course that explores the prose and poetry written in the United States from colonial times to the present. The course primarily focuses on American literary works. The interpretation of poetry, fiction, and nonfiction prose is also covered. The successful student will have an understanding of the terms, forms, and literary concepts used by scholars to examine the literature of all genres.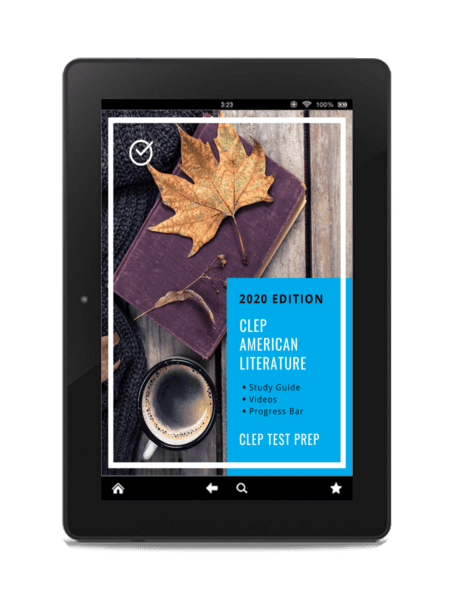 Particular literary works—their authors, characters, plots, style, setting, themes, etc.
Understanding and ability to interpret short poems or excerpts from long poems and prose works.
Historical and social settings of specific works, their relation to other literary works and traditions, and the influences on their authors.
Familiarity with critical terms, verse forms, and literary devices.
American Literature
American literature is literature predominantly written or produced in English in the United States of America and its preceding colonies. Before the founding of the United States, the British colonies on the eastern coast of the present-day United States were heavily influenced by English literature. The American literary tradition thus began as part of the broader tradition of English literature. However, a small amount of literature exists in other immigrant languages and Native American tribes have a rich tradition of oral storytelling.*
*https://en.wikipedia.org/wiki/American_literature
The exam assumes the student has read widely in American literature and has an understanding of American literary periods and historical timeline.
The exam contains approximately 100 questions to be answered in 90 minutes. Some of these are pretest questions that will not be scored. The College Board provides the parameters for the exam which we have listed below.
*An optional essay section can be taken in addition to the multiple-choice test. SpeedyPrep prepares its subscribers for the question portion of the exam, but not the essay portion.
CLEP™ Score Information
Credit-Granting Score for American Literature
ACE Recommended Score*: 50
Semester Hours: 3
Each institution reserves the right to set its own credit-granting policy, which may differ from that of ACE. Contact your college as soon as possible to find out the score it requires to grant credit, the number of credit hours granted, and the course(s) that can be bypassed with a satisfactory score.
*The American Council on Education's College Credit Recommendation Service (ACE CREDIT) has evaluated CLEP processes and procedures for developing, administering, and scoring the exams. The score listed above is equivalent to a grade of C in the corresponding course. The American Council on Education, the major coordinating body for all the nation's higher education institutions, seeks to provide leadership and a unifying voice on key higher education issues and to influence public policy through advocacy, research, and program initiatives. Visit the ACE CREDIT website for more information.*
*https://clep.collegeboard.org/
Course Features
Lectures

1

Quizzes

0

Duration

Lifetime access

Skill level

All levels

Students

9329

Assessments

Yes