This course can be used as a study resource, for professional development, or to earn college credit by passing a CLEP™ exam (multiple-choice examination).  Each college sets its own credit-granting policies for the exam, so check with your college admissions office, test center, or academic adviser before taking the test.  
The American Government course covers material that is usually taught in a college-level, one-semester introductory course. Knowledge gained in an American Government course covers the origins, development, structure, roles, and functions of American government. The framework and content of the constitution is studied along with federalism; the three branches of government which include bureaucracy; civil rights and liberties; political participation and behavior; and policy formation. Successful students will be able to demonstrate their knowledge of the participatory process of the American political system. The relationship between state and local governments to the federal government is also covered.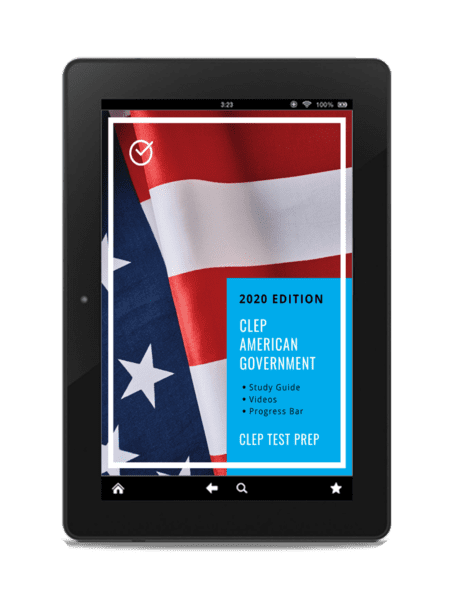 Basic knowledge of the functions of American government
Knowledge of the constitution, federalism, civil liberties, functions of the three branches of government and the role of government in American life
Understanding typical patterns of political processes and behavior
Ability to analyze and interpret simple data that are relevant to
American government and politics
American Government
The federal government of the United States (U.S. federal government) is the national government of the United States, a federal republic in North America, composed of 50 states, a federal district, five major self-governing territories, and several island possessions. The federal government is composed of three distinct branches: legislative, executive, and judicial, whose powers are vested by the U.S. Constitution in the Congress, the president, and the federal courts, respectively. The powers and duties of these branches are further defined by acts of Congress, including the creation of executive departments and courts inferior to the Supreme Court.*
*https://en.wikipedia.org/wiki/Federal_government_of_the_United_States
The American Government exam contains approximately 100 questions to be answered in 90 minutes. Some of these are pretest questions that will not be scored.
CLEP™ Score Information
Credit-Granting Score for American Government
ACE Recommended Score*: 50
Semester Hours: 3
Each institution reserves the right to set its own credit-granting policy, which may differ from that of ACE. Contact your college as soon as possible to find out the score it requires to grant credit, the number of credit hours granted, and the course(s) that can be bypassed with a satisfactory score.
*The American Council on Education's College Credit Recommendation Service (ACE CREDIT) has evaluated CLEP processes and procedures for developing, administering, and scoring the exams. The score listed above is equivalent to a grade of C in the corresponding course. The American Council on Education, the major coordinating body for all the nation's higher education institutions, seeks to provide leadership and a unifying voice on key higher education issues and to influence public policy through advocacy, research, and program initiatives. Visit the ACE CREDIT website for more information.*
*https://clep.collegeboard.org/
Course Features
Lectures

1

Quizzes

0

Duration

Lifetime access

Skill level

All levels

Students

10865

Assessments

Yes